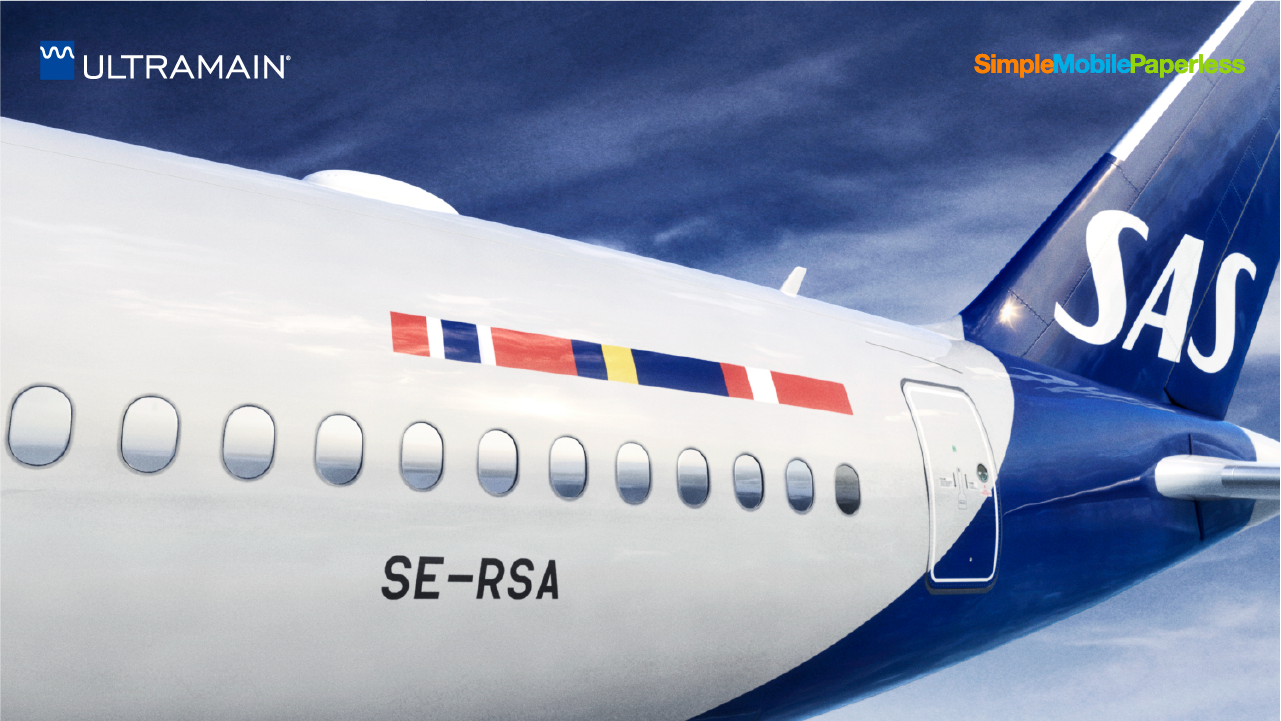 FOR IMMEDIATE RELEASE
Stockholm, Sweden – May 15, 2022– Scandinavian Airlines System (SAS) has selected Ultramain Systems to provide its market leading electronic logbook software. ULTRAMAIN® ELB™ fully replaces the aircraft paper technical log, cabin log, journey log, damage log, and fueling logs providing a validated electronic Certificate of Release to Service (e-CRS). The ELB application will be used by Flight Crews, Cabin Crews, and Mechanics on iOS and Windows devices to provide integrated workflows with SAS maintenance and operations systems. Once implemented, ULTRAMAIN ELB will provide a variety of benefits including enabling accurate, real-time global operational visibility of the SAS fleet, resulting in fewer maintenance related disruptions, reduced defect life cycle time, higher dispatch reliability, and increased aircraft utilization. Ultramain's off-line eSignature validation capabilities will ensure reliable electronic operations even when connectivity is unavailable.
According to SAS, ULTRAMAIN ELB will enable process efficiencies that will avoid disruptions and reduce turn times.  The removal of paper-based processes will increase productivity by 6,500 man-hours per annum. As part of the SAS digitalization and paperless initiative, ULTRAMAIN ELB reinforces the SAS commitment to providing sustainable travel. Implementing ELB will avoid the consumption of 300 logbooks per year across the SAS group of airlines.
"We are pleased to welcome SAS to the ULTRAMAIN ELB family. As the launch customer of ULTRAMAIN Electronic Line Checks™, a companion product to ELB, SAS will further increase productivity with digital line maintenance check sheets. This is an important step toward the SAS goal of reducing the environmental impact for the communities in which they serve," said Mark McCausland – President and CEO of Ultramain Systems.
About Scandinavian Airlines  
As SCANDINAVIA'S LEADING AIRLINE for more than 75 years, we've flown and kept Scandinavia connected to the world and the world to Scandinavia. We have always stayed at the forefront of what's new, and looked towards the next horizon. We've seen the world change, sometimes over decades, and sometimes, all at once. Changes that have made us rethink, adapt, and rebuild. We're now heading into a future where change is never-ending, and the need to rethink is constant. A future of conscious thought and sustainable innovation, our way, the Scandinavian way.
About Ultramain Systems
Serving aviation industries worldwide for more than 35 Years, Ultramain Systems is dedicated providing our customers worldwide with SIMPLE MOBILE PAPERLESS Aviation Maintenance software products and professional services. ULTRAMAIN ELB – the market leading electronic logbook software is approved for paperless use at airlines worldwide.  ULTRAMAIN ELB operates on mobile or installed devices.
ULTRAMAIN M&E / MRO software offers comprehensive functionality, innovative features, and has been approved by regulatory authorities around the world for line, base, and overhaul operations as the paperless maintenance system of record. Ultramain Systems & Ultramain International maintain offices in the USA, UK, Ireland, Hong Kong, India, and Singapore. For more information about ULTRAMAIN®, please visit www.ultramain.com, send an inquiry to sales@ultramain.com, or call 1.505.828.9000.