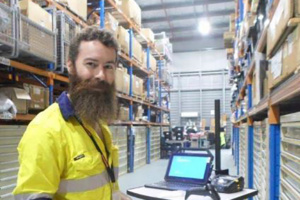 The BAE Systems Warehouse team have implemented mobile technology to reduce errors and improve workplace efficiency. This is a first of its type within BAE Systems. An integrated product team from the Warehouse, IM&T and Ultramain have spent the last twelve months deploying ruggedized computer tablets, scanners and portable printers to allow staff to free themselves from their desks and process warehouse requests directly from the shop floor. The team are able to work from the pick-face (storage) including issuing and labelling product.
If the employee attempts to issue the incorrect product, the bar-code reader will reject the issue and provide an audio alert of this error. The error alert and increased inventory accuracy help reduce the stock take investigation and rectification times considerably.
Further to this, more information is printed on the Barcode label including details of priority, delivery location / tail number and workspace. This ensures the Delivery In Full On Time (DIFOT).
The users at the Main Store Warehouse are happy and management has seen a reduction in errors and an improvement in warehouse efficiency. The successes of this has the team already looking at expanding its use within the Warehouse and for opportunities to install the technology in the Maintenance hangar. Chris, Warehouse Operator, said: "This technology has been really great as it has added convenience to the job, saved a lot of time and allowed for a better workflow. It also helps that's it's a fail safe system.
"Kyle, GUC Operator, said: "It's very efficient, user friendly and has improved performance and accuracy in the warehouse."